Glitch Gallery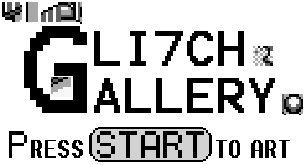 Glitch Gallery: Press START to Art
is a mini-arcade of games and art presented by
Art175: Game Design Studio
and the
Game Development Club at San Jose State
. The Show featured four arcade cabinets and one console station.
Glitch Gallery
is the spiritual successor to
BURN OUT
, this time deviating even further from the standard end of the semester student work show affair. The physical cabinets and cramped elbow-to-elbow gaming force an even more authentic arcade feel. The Show was organized and curated by John Bruneau with much help from members of the Game Development club and the Students of Art175.
Dec 4th through 6th, 2012
Opening reception: Dec 4th, 6pm to 9pm
Art Building, Gallery 5
San Jose State University
One Washington Square
San Jose, Ca

Special Thanks
Patrick Khachi, Gizelle Orbino, Michael Wu, and a very special thanks to James Morgan
Poster by Haifa Tabbara, Logo by Partrick Harris
Exhibiting Artists
Arthur Baney, Neil Bickford, Scott Blackwell, Vincent Brubaker-Gianakos, Justin Cayabyab, Allen Francisco (AZURA), Partrick Harris, Kevin Hietala, Gavin Higham, Melanie Joe, Dana Kipnis, Sergio Licardie, Kristi Loo, Dustin Myers, Jerilyn Nick, Eric Nunez, Glenn Pham, John Pham, Jonathan Sorem, Travis Stebbins, Haifa Tabbara, Derik Vega
Featured Games
Day 10

Dana Kipnis, Jerilyn Nick, Glenn Pham, John Pham & Jonathan Sorem

Day 10 is a game designed around the idea that Life Must Go On. The game is played through alternating recontextualiations of classic games and styles with an explorative hub-world. Each success or failure sets you on a new path, where pieces of the story reveal themselves and come together. There is no absolute failure in Day 10, there is only surviving another day.

Go Faster 2: Faster Still

Team Dogtopus:
Scott Blackwell, Vincent Brubaker-Gianakos, Gavin Higham, Sergio Licardie & Travis Stebbins

Hurtle through space at mind-boggling speeds as you and your friend race for glory! Team Dogtopus, accomplished masters of high-speed fun--have collaborated to create the fastest, most visually stunning racing game ever! Go Faster 2 is the race to end all races, as fearless pilots risk everything to claim the title of the top speedster in the world!

Gordius 2

Neil Bickford

Gordius 2 is a game about many things: Survival. Battle. Puzzles. And not getting your head bit off. This is also a sequel to the original Gordius, the famous game which wasn't made in 1973

Mystik Cavalry

Justin Cayabyab, Melanie Joe, Kristi Loo, Eric Nunez, Glenn Pham & John Pham

The Goddess has promised salvation. The Apocalypse has been summoned. The Cavalry Heroes refuse to let their world end.

Platform Portfolio

Glenn Pham & John Pham
with Angel Adea, Patrick Khachi, Kristi Loo & Dustin Meyer

This game is about exploring various artists' artwork. With participation from a small community of artists.

Prismic Shift

Allen Francisco (AZURA)

Welcome to the world of shape. Your mission is to destroy shapes. Use your guns and yourself to destroy as much as you can.

Sylvia on the Night Shift

Partrick Harris, Kevin Hietala, Dustin Myers, Haifa Tabbara & Derik Vega

It's not your typical graveyard shift... With her last job up in flames, a determined Silvia finds new work in the late hours, cleaning the offices of the Bagox Corp. Armed with a variety of tools at your disposal, you help Sylvia locate and clean as many messes on each floor as time permits. But strange and disturbing monsters of mysterious intents and origins will stop you at every step. Use your trusty mop, spray, and vaccum to fight off foes, force your way to the elevators, and make those monsters clock out for good!

Trapped in an Arcade

Arthur Baney

Somehow, don't ask me how, you managed to get yourself stuck in an arcade cabinet. Now you must beat all of it's games in order to escape.