Tech Tools of the Trade: Contemporary New Media Art
April 17 - June 28, 2009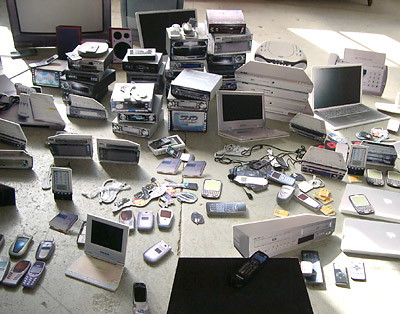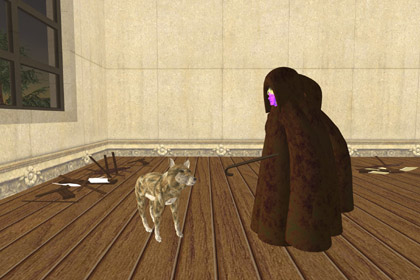 This survey exhibition features work produced by Bay Area-based or Bay Area-rooted artists using new media—defined in the context of this exhibition as electronic, digital, or web-based. Organized into accessible thematic sections, the work in this exhibition explores the ways that technology has shaped our sense of selves, our vision, our bodies, and our world. The exhibition examines our cultural fascination with technology (including our continued faith in its benefits), our myriad uses of the internet, as well as the potentially troubling applications of technology in simulation and surveillance.
While the work in the exhibition features a broad range of conceptual and artistic approaches, all of it is unified by its multidisciplinary content. As a result, the exhibition has been organized around thematic areas that highlight the works' connections to contemporary cultural and social phenomena: Biomorph, Identity, Web Repurposing, New Light, Hope and Promise, Surveillance, and Simulation.
Throughout history, artists have taken advantage of technological innovations, employing new developments as tools in their artistic production. Examples range from the discovery of photographic processes to the lost-wax casting process for large-scale sculpture. More recently, Ivan Sutherland's 1963 invention of "Sketchpad," a computer aided drawing program, is the ancestor of current image making applications such as Flash and Illustrator. The organization Experiments in Art and Technology (E.A.T.) was founded in 1966 to match artists and engineers for collaborative projects, which utilized electronic equipment and new materials such as mylar. With the refinement of raster graphics on the computer in the seventies, painting with pixels became another production tool in the artist's toolbox.
The new media artists in this exhibition adopt current technologies such as online colonies and marketplaces, digital video cameras, and security x-ray machines to achieve their artwork. Some artists in the exhibition comment on technology with low-tech presentations, while others use sophisticated equipment solely to achieve their conceptual goals. As technology becomes more pervasive in our lives, the artists respond in kind – either as users of the technology, or as commentators.
Artists in the exhibition include John Pierre Bruneau, Jim Campbell, Anthony Discenza, Rodney Ewing, Martha Gorzycki, Lynn Hershman, Sherry Karver, Nina Katchadourian, Scott Kildall, Andrew Kleindolph, Jill Miller, James Morgan, Deborah Oropallo, Trevor Paglen, Alan Rath, Jackie Sumell, Stephanie Syjuco, Gail Wight, and Christine Wong Yap.
This exhibition is co-curated by the de Saisset Museum and SCU Assistant Professor Kathy Aoki. Santa Clara University art history major Lauren Baines played an important role by writing all of the identification and interpretive labels for Tech Tools of the Trade. Guide by Cell interpretive content for the exhibition was developed by students in Aoki's Art in the Computer Age course. Students in the course include: Jill Blake, Ashley Cook, Peter Dziuba, Katherine Fiedelman, Christina Flores, Whitney Fung, Molly Geisler, Millicent Jenkins, Katrina Liebl, Justine Macauley, Kelsey Maher, Kaitlin McKee, Morgan Michaels, Lila Miyamoto, Carolyn Nickell, Memori Otsuka, Kenneth Solis, and John Wrixton.
This exhibition is funded in part by the de Saisset Museum, a SCU Technology Innovation grant, and a grant from Arts Council Silicon Valley, in partnership with the County of Santa Clara and the National Endowment for the Arts.
Images: Left to Right Stephanie Syjuco, Everything Must Go (Grey Market), 2006, digital prints, foamboard, and mixed media, variable dimensions, courtesy of the artist and James Harris Gallery, Seattle. Scott Kildall, America, 2006, digital print, 20 x 30 in., courtesy of the artist.