John Bruneau
Artist, Educator, Curator, Coder.
Contact: John [at] artfail [dot] com
Resume (pdf)
,
Full CV (pdf)
teaching:
Game Studies
at SJSU
playing: Realm of the Mad god, Minecraft, Rescue: The Beagles
reading: Steal like an Artist, Rise of the Videogame Zinesters, Homestuck
hacking: Myself
Cooperative Gaming Co-op
The golden era of the arcades is long gone and the revival of the 90s a distant memory. It's now up to the people to reclaim the space. The arcade was more than a place that devoured our allowances one quarter at a time, the space was alive with interaction, community and conversation. The democratization of media has shifted the gaming landscape. Now more than ever, games can be created by anyone given the time and dedication.
The Cooperative Gaming Co-op
looks both backwards and forwards, into the legacy of gaming on one hand and its possible future one the other.
Our arcade includes cabinets curated by invited experts,
Anna Anthropy
,
Sarah Brin
and
Zach Gage
who have brought together the best and most interesting work from the indie and fringe community. We have game inspired work from
Gabriel Menotti
,
Geri Wittig
,
Sean Boyles
and
The Lightwall Group
. The Coop is also playing host to community-centric arcade cabinets like the
Winnitron
and
Oakutron
as well as showcasing student work from the
San Jose Sate Game Developers Club
and the
Gambit Game Lab
at MIT. The range of represented work is enormous, expect to play games by people you have never heard of and people who will affect the future of the industry.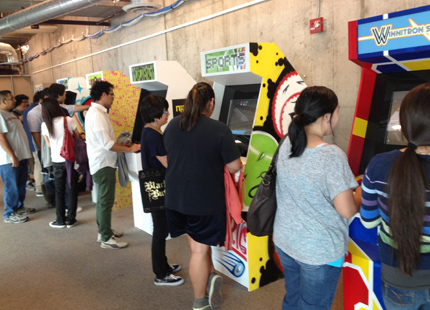 We invite people of all ages to visit our Gaming Coop. Trade games, old games, new games, games you made. This is a space that we own as gamers. This is a place where we Share and Play together.
Cooperative Gaming Co-op opened as part of the
Zero1 Biennial
and is currently showing at
Works / San Jose
.
The Arcade is Dead. Long Live the Arcade.
V2V
Valley to Valley (V2V)
is a collaboration of artists, art historians, and social scientists working together to explore the similarities and differences between the two sister cities San Jose, CA and Yekaterinburg, Russia. San Jose is the self proclaimed capitol of Silicon Valley a global hub for technology while Yekaterinburg in Titanium Valley is the site where a new industrial and technological area is currently being designed and built. The international team met and collaborated in virtual shared space of Minecraft.
The result is two projects, one shown in each Valley. The San Jose project opened at the
Zero1 Biennial
and is currently installed at the San Jose TechShop. The Yekaterinburg piece will be shown at the International Festival of Contemporary Art then permanently installed in the lobby of the first building built in the new Titanium Valley location.