About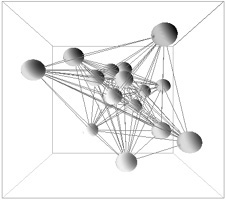 Artist Statement
Art should not limited to "do not touch", "no photography" and velvet ropes. I believe that art must not only allow but encourage, dialogue between artist and participant. This dialogue is multi-tiered, invoking a manifested exchange of the physical as well as the mental. I do not use the word "viewer" because that implies standing back. The epitome of art is total emersion of the patron in the piece. My goal as an artist is to create art that truly shifts the traditional role of the patron from passive to active. Viewer equals performer. My medium is circuits, code, and pixels. My presentation is interactive installation and games. Art is not a spectator sport.
Bio
John Bruneau is an internationally exhibiting new media artist, teacher, and game developer based in Brooklyn, New York. He is a game design faculty at The Parsons School of Design, as well as a frounder and the academic program director at Babycastles Gallery in Manhattan.
Bruneau has roots in Silicon Valley where he worked at Innovation Games, The Carnegie Foundation for the Advancement of Teaching and San Jose State University. He is also the cofounder of Ars Virtua, The Third Faction Institute LLC, and the San Jose State Game Developers Club. He has an MFA in Digital Media from the CADRE Laboratory for New Media at San Jose State University and received his Bachelor's degree from the University of California, San Diego in ICAM.
Primarily working in the medium of games, Bruneau's projects range from interactive installation pieces, to online game development, and performance art in virtual worlds. He has exhibited work in ZERO1, The Streaming Museum, San Jose Museum of Art, Laguna Art Museum, Maker Faire and ISEA, among others. Through his work John has always aimed to keep art and education exciting, innovative, and accessible., innovative ways to improve education though technology and most importantly, keep learning fun.
Contact
John [at] artfail [dot] com