Karaoke Ice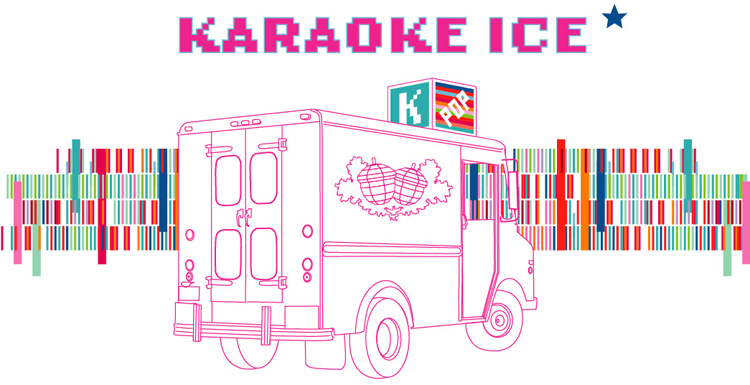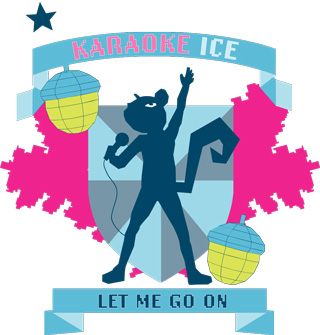 Long Story Short
Karaoke Ice is a mobile karaoke booth ice cream truck art piece. Also there is a squirrel. Free frozen treats are handed out and once a crowd gathers, the truck transforms into karaoke mode. Everyone loves it! Especially on those long hot summer days it cruised through San Jose and Los Angeles. All the karaoke songs were even remixed to sound like ice cream truck musik. We had
T-shirts
and everything.
Karaoke Ice was exhibited in San Jose California from August 7th - 13th, 2006 as part of ISEA 2006 / ZeroOne San Jose: A global festival of art on the edge. It was commissioned for ZeroOne through a Cadre Residency cosponsored by Montalvo Arts Center Sally and Don Lucas Artists Programs. It was exhibited in Los Angles from Aug 31st - Sept 9th, 2007 as part an initiative commissioned by Los Angeles Contemporary Exhibitions (LACE).
Production and Exhibitions
Karaoke Ice was originally conceived as a Cadre / Montalvo Residency for ZeroOne / ISEA 2006. I was part of a team of Cadre kids that were partnered with Nancy Nowacek, Katie Salen, and Marina Zurkow who came out from New York. Originally the idea was to have a swarm of individual ice cream carts but they eventually coalesced into a single truck which received the name Lucci. At some point a squirrel cub got involved, probably because there were so many squirrels running around campus and this art piece was meant to represent aspects of the city in some respects. His name was Remedios. I posted their story at
the bottom
.
From concept to finished product I think it was a year but it felt longer. Already we were scoping out ideas and conducting karaoke research in 2005. One
eventful night
landed us at Bamboo 7 in downtown San Jose. Good times. We decided this truck needed to be a party truck, disco ball included. It needed to have all the glitz and glamor that the offspring of a karaoke booth and icecream truck conceived on a bed of technoculture demanded. We split into teams depending on our strengths and set to work. There was a few of us that wore multiple hats. I was in charge of the coding and audio video hardware. It was pretty stressful for everyone involved but it all came together. We made a grand entrance on opening night and rocked the house. After that the press flooded in and we even got in Wired.
ISEA 2006 / 01SJ
A Global Festival of Art on the Edge was a Huge success. Remedios the Squirrel became a star.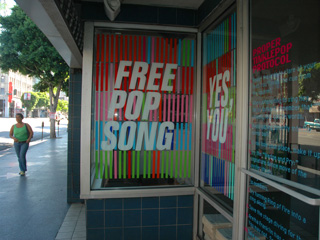 The next summer we were commissioned by
LACE
(Los Angeles Contemporary Exhibitions) to do it all again. Poor Lucci couldn't make the drive to LA and had to be tucked out there. Katy, Nancy, and Marina paid to fly me out as well. I worked for roughly a week in the sweltering LACE office loft subsisting exclusively on freezer pops. I was working on the core engine removing some features, streamlining others, and adding a new collection of
songs
to the repertoire. Again we got it done in the nick of time. We hit the streets of LA, traveling though Hollywood, Venice Beach, Watts Towers, Silverlake and Santa Monica, with our new Remedios actress. And once again we were loved by all.
At the Time of this writing it has been six years sense and I am looking back at it with hotpink tented glasses. I feel every good project deserves good documentation and sadly the official sites have degraded and fallen into disrepair over the years. So I wanted to put together a testament to something I spent an era of my life helping to create, a testament to something I believed in.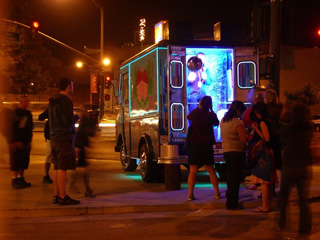 Further reading
Switch Article
ISEA 2006 Page
ISEA 20006 Interview by Sylvie Parent
Lace Exhibitions Archive
2007 Press Release pdf
Official Page
(in disrepair)
Official Myspace Page for 2007
(in disrepair)
"Investigating the implications of aging in the era of technology, Karaoke Ice is a mobile social space and database. Traveling the country to continue her work as a gonzo journalist, Lucci (who has taken the avatar of an ice cream truck) and her best friend, Remedios the Squirrel, assemble disparate communities to temporarily revel in the pleasure of one another's performance, and icy treats on summer days."
- Nancy Nowacek

This video was put together by Katie Nancy and Marinia. It is short and to the point. It is everything a good documentation video should be.
This extended compilation was put together by me. It was shot during ISEA 2006 and features more of the team actually singing and more opening night house rocking. I wanted to show the process from card scan to song load and the people who worked on Karaoke Ice actually having fun with it. This cut features clips from performances by Thomas Asmuth, Michael and Lauren Weisert, and myself. Unfortunately the entirety of Kristin O'Friel and Corrie Tse's performance was missing but I included what I could. Yes, it runs long but the editing decisions were based primarily on nostalgia. This one is for the fans.



The Song Engine That Could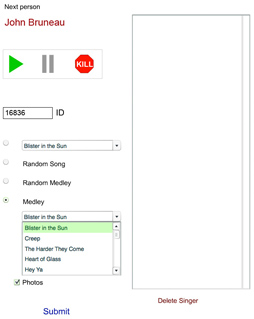 My lead role in Karaoke Ice was creating the song engine at the heart of the truck. I put my audio video background and my coding skills to good use developing a system of hardware and software components.
Here is how it played out: When a participant wanted to sing a song they were given a card with a unique id and a barcode on the back. The barcode was scanned, entering their id into the system. They then chose what song they wanted to sing. The songs could be selected from a list, assigned at random or be a three part medley. Then participants were added to the queue. The Engine was controlled via a remote stylus that was handled by an operator in the front of the truck. They had the option to play and pause, incase the next singer wasn't ready. They could delete a signer that drops out or doesn't show up when they are called. There is also a hard stop incase a recording session needs to be abandoned for some reason. When a singer performs the requested song is played and synchronized lyrics are brought up on a screen in the back of the truck. The performance is recorded and pictures are automatically taken of the performance. The images and the recorded mp3 are saved to a folder and upload it to the website. Participants could then look up their performance later based on time, day and id number.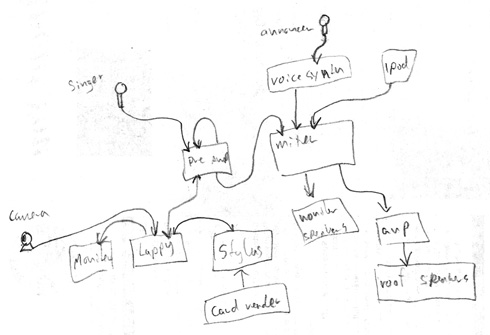 I drew a diagram for the hardware setup just to keep it all straight in my head while I was assembling it. You'll notice there is a second mic and a vice synthesizer, this is so the announcer could sound like a robot or the tuck if they wanted. The ipod shuffle was used so that karaoke ice music could be played out the main speakers without powering the whole engine on. Also the preamp is plugged into itself. The computer is both playing and recording at the same time and this simple trick enabled the audio track and the singers voice to be (re)recorded in perfect sync.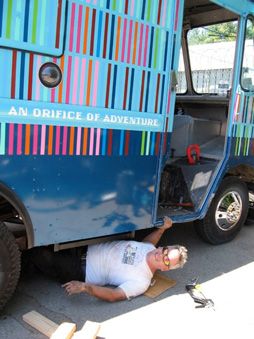 The main engine ran on a rugged laptop in the back of the truck. It was connected to the sound mixer via a USB preamp, it was connected to the stylus via twisted pair Ethernet cable, and connected to a webcam at the front of the stage, facing the performer. The main engine and the stylus interface were written in flash and communicated via a local flash media server running off the rugged laptop. A python script ran the camera. A unix executable called sound capture recorded all the audio input. Process.exe was used as a kill command when a hard stop was triggered on the stylus. PHP was used to manage files and folders and also acted as glue between flash and all the other processes.
Power demands were serous and I wouldn't have been able to run all this machinery without the help of Thomas Asmuth, Owen Premore and there knowledge of gas generators amps watts and such. On the web side of things I worked closely with Mike Weisert putting the site together and getting the automated proses for online playback in gear. Most of all I would like to thank Kristin O'Friel and Corrie Tse whom I worked closest with. They were responsible for syncing and animating by hand all the motion tweens for all the color changes for all the lyrics for all the songs in the whole project. An amazing feat in its own rite. With out them there would be nothing for all this code and hardware to do. Bless their souls.
Credits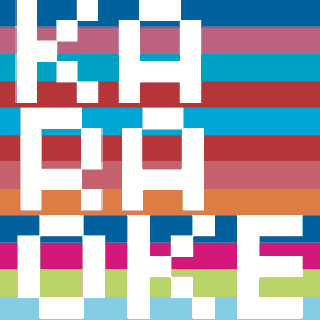 Karaoke Ice is a project by Nancy Nowacek, Katie Salen, and Marina Zurkow, in collaboration with, Mike Weisert, John Bruneau, Kristin O'Friel, Corrie Tse, Thomas Asmuth, Owen Premore and Sarah Lowe from Cadre. (Except Owen's not from Cadre but we love him anyway) It was originally commissioned for ZeroOne San Jose: A Global Festival of Art on the Edge, by CADRE, SJSU, and the Montalvo Arts Center.
Design and Production: Katie Salen, Marina Zurkow, and Nancy Nowacek
Executive Producer: Joel Slayton
Line Producer: Mike Weisert
Software Development Team: John Bruneau, Kristin O'Friel, Corrie Tse, Michael Weisert
Build Team: Thomas Asmuth, Sarah Lowe, Owen Premore, Ben Ward
Web Development Team: John Bruneau, Bruce Gardner, Kristin O'Friel, Michael Weisert
Music: Lem Jay Ignacio
2007 LACE credits
Press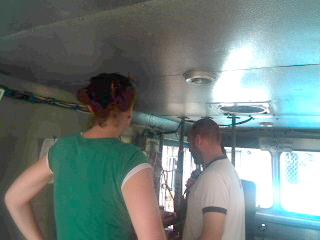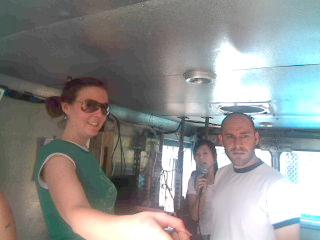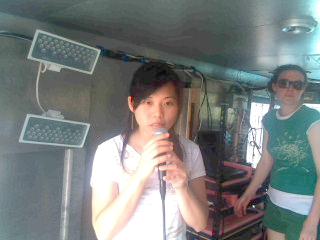 Nancy Nowacek, Marina Zurkow, Katie Salen, John Bruneau, Corrie Tse, Angel Adams, Bruce Gardner. "
Karaoke Ice: A Night Out
", Switch New Media Journal, Issue 21, 2005
Roger Thomasson. "The Artful City", Wired, New York, NY. August 2006, p.56
Marian Liu. "Follow the Bouncing Squirrel", San Jose Mercury News, August 9, 2006: 1E.
Mark De La Vina. "ZeroOne Goes Down as a Hit", San Jose Mercury News, August 15, 2006: 1A.
Gary Singh. "Art on the Edge", Cover Story, Metro Silicon Valley, San Jose, Ca. August 2, 2006, vol.22, no.22, p.24
Michael Weisert and John Bruneau (Hosts) "Switch Broadcast: Karaoke Ice", Neighborhood Public Radio, August 10th, 2006
Nancy Nowacek, Katie Salen, Marina Zurkow. "
CADRE Residency: Karaoke Ice
" Switch New Media Journal, Issue 22, 2006
Peter Hall. "
San Jose's Missing Soul
", Metropolis Mag, November 8, 2006
Christiane Robbins. "
Assessing ISEA 2006
", Stretcher, October 6th, 2006
Declan McCullagh.
"Photos: ZeroOne's Eye on Electronic Art
" CNET News, August 15, 2006
Elina Shatkin. "Karaoke Ice Marries Frosty Desserts and Crooning," Los Angeles Times, Calendar Live, August 30, 2007
Bre Pettis. "
ISEA 2006 Wrap-Up
" Make, February 29, 2008
Blogosphere
Eric Siu
Jessica Plume
Haudenschild Garage
Deep Fun
Orange Cone
ISEA 2006 Press Clips
Lucci and Remedios: a tale of two friends
Karaoke Ice Myspace Page
. Credit to Nancy Nowacek, Katie Salen and Marina Zurkow...
My name is Lucci, Yes, I go by my last name only. My friends joke it sounds so much like louche; you may be vaguely aware that louche is from the French louche, "shady, suspicious," from Old French losche, "squint-eyed," from Latin luscus, "one-eyed." The name names me well as you will soon see, for I only respect stray facts, manic theories, and well-told lies. I am both conjuror and illusionist: a woman of the world who has fallen down an elevator shaft into a pool of mermaids.
My companion. A handsome one he is. We travel, surrounded by warm, bright and often humorous incident, the textures of a life well lived, on which we doodle and jest, nibble at the edges of our own desires. I speak, of course, for I know nothing if not that observation matters and I have no problem letting others know what I think. Words I covet: deshabille, disorderly, bombshell, tidy, fit, eunuch, all the serious "s" words like solemn, sullen, somatic, slumbering. The lively rhythmic variety of Italian curse words: che cazzo! Che schema! La bruta! una bella fica.
And why not? I grew up under the watchful eye of Tranquilina Lucci, my father's mother's mother, who by the time that I knew her, had lived so long she'd lost track of her age. Lusty and combative, a former vaudeville stripper turned seamstress, the fascination she felt for accordion players with their traveler's serenades became her way of speaking, lines of non-sequiturs softened through song.
At night we dream of numbers, lots cast through chance calculation. Seven returns twice but tells no one of its secret.
The days I remember best are those spent in the dark together, stowed away in cabinets beneath the bathroom sink, under beds, behind doors, in closets, to conspiratorially huddle against space and light, sharing stories and avoiding the teeming masses of children milling about. I imagined that the hole in the closet ceiling led all the way to the roof, and pictured it as an orifice of adventure out of which my future would eventually be birthed. Remedios, the resident squirrel cub, most certainly put this hole to the best possible use, in performing broken magic tricks that never failed to delight.
At the stroke of one, five, nine, came an announcement: "I feel a song coming on!" which signaled our escape to reason. Scamper then from inside the sink/closet/bed and head to my room, a smallish space with a large picture window, throw the shutters wide, and sing our lungs out, accompanied most days by one of twenty-one records kept for such occasions.
August nights she ventured out, to perform private solos under the ruined lights of the ancient theatre across the street, sultry burlesque routines combined with a bit of soft shoe. She acted in my own private fictions dancing in concert with the stories I told myself about a squirrel, in a color-encrusted suit, swimming to the moon. Made of the thread of hundreds of unraveled kerchiefs stolen from the trunks of traveling troubadours, a cacophony of memory and texture, color and story, glitter, wool, and light. There was a sense that nothing after these impromptu performances would ever be the same.
We learned to believe in the magic power of shimmer and string for with a needle and a few clever tricks it could be used to repair the damage—of small spaces, large families, of lost and forgotten children. With it we played cat's cradle in spring; in winter it was knit into conical caps with colored flaps to keep our ears warm. In summer the hats were refashioned into breezy hammocks hung in the narrow space between buildings. In it we swung, side-by-side, escape artists on a magic carpet ride to nowhere. String was our claim to forgiveness.
Now. My own temporality suspended, indefinite, my sense of future concatenated, flattened, and folded. It is the cliché of my age that hurts me most.
If the preceding posts are simply a compendium of mass misconceptions—a confusing jumble of mythology, gossip, jest and hoax—what, you must ask yourself, can you believe?
Get Your Tinklepop On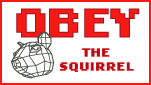 More Photos
Mercury News Photo Blog
Karaoke Ice on Flickr