Media - Me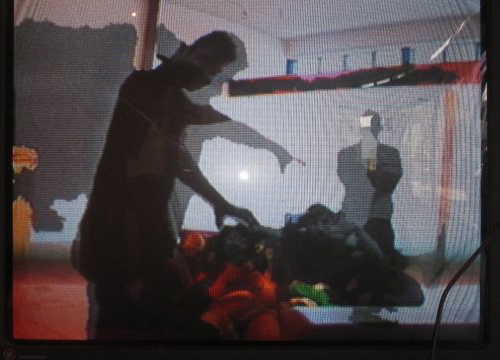 Media - Me (Media Minus Me) deals with feelings of media bombardment, surveillance, personal irrelevance and disconnection. As our ever-advancing society eagerly consumes the future, who is recording our media legacy? This is my farewell to analogue television. May you rest in peace.
An old style video camera and an eighties style cabinet TV with bent rabbitears inhabit the gallery space. The subjects facing the camera and television are displayed as silhouettes of static while the background remains crisp and clear. The rabbitear antenna on the TV can be manipulated by the viewer to increase/decrease the reception of those inhabiting the TV screen space. Depending on the position of the antenna, the signal can often look as much like pirated cable as bad reception. The motion processing was done with Max/MSP/Jitter. The hardware incorporates a pirate TV broadcaster. The signal static is the real deal.
SubZERO
Media - Me was exhibited as part of SubZERO 2009 in the Remote/Control show at Works/San Jose. SubZERO is Zer01's annual technology & art block party taking place in Downtown San Jose's SoFA District. This idea was stewing in my head since 2006, maybe even earlier and Remote/Control was my opportunity to finally realize it. All hail the progenitors of culture!


Links:
SubZERO Festival
Zer01: SubZERO
Zer01: Remote/Control
Works/San Jose: Remote/Control

Related Press:
ArtShift: SubZERO and First Fridays Meet
By Erin Goodwin-Guerrero
Metroactive: Summing up SubZERO
By Gary Singh

Video Music Clip:
Anamanaguchi – Mermaid